Overview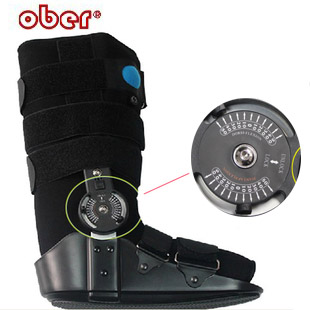 Achilles tendon rupture are common. Most athletes describe a sudden acute event with an associated popping sensation and pain in the Achilles tendon. They often think that they have been kicked or struck in the calf. It is important to get prompt treatment and to be placed in an equinous cast (a cast with the foot in a pointed position). More definitive treatment options can be discussed after this has occurred.
Causes
The Achilles tendon usually ruptures as a result of a sudden forceful contraction of the calf muscles. Activities such as jumping, lunging, or sprinting can cause undue stress on the Achilles tendon and cause it to rupture. Often there is a background of Achilles tendinitis. Direct trauma to the area, poor flexibility or weakness of the calf muscles or of the Achilles tendon and increasing age are some of the other factors that are associated with an Achilles tendon rupture.
Symptoms
Patients who suffer an acute rupture of the Achilles tendon often report hearing a ?pop?or ?snap.? Patients usually have severe pain the back of the lower leg near the heel. This may or may not be accompanied by swelling. Additionally, because the function of the Achilles tendon is to enable plantarflexion (bending the foot downward), patients often have difficulty walking or standing up on their toes. With a complete rupture of the tendon, the foot will not move. In cases where the diagnosis is equivocal, your physician may order an MRI of the leg to diagnose a rupture of the Achilles tendon.
Diagnosis
Some patients mistakenly believe the tendon is working if they can push the foot down, however, patients will usually be able to move the foot up and down while sitting because the other surrounding muscles and tendons are still intact. Trying to push up while standing and applying body weight to the foot will reveal the true weakness. Sensation and circulation to the foot and ankle will be normal. In addition, x-rays will be normal unless the Achilles injury involves pulling off (avulsion) of the bone on the calcaneus (heel bone). This is quite rare, occurring in only a small fraction of patients with Achilles injuries. Patients suffering this type of Achilles avulsion injury tend to be older with weaker bone. Imaging Studies. Plain x-rays will be negative in patients who have suffered an Achilles tendon rupture. The rupture can be seen on ultrasound or MRI. However, these studies are not indicated for acute ruptures unless there is some uncertainty about the diagnosis. For chronic problems of the Achilles or ruptures that are old, an MRI may be very helpful.
Non Surgical Treatment
As debilitating as they can be, the good news is that minor to moderate Achilles tendon injuries should heal on their own. You just need to give them time. To speed the healing, you can try the following. Rest your leg. Avoid putting weight on your leg as best you can. You may need crutches. Ice your leg. To reduce pain and swelling, ice your injury for 20 to 30 minutes, every three to four hours for two to three days, or until the pain is gone. Compress your leg. Use an elastic bandage around the lower leg and ankle to keep down swelling. Elevate your leg. Prop you leg up on a pillow when you're sitting or lying down. Take anti-inflammatory painkillers. Nonsteroidal anti-inflammatory drugs (NSAIDs) like ibuprofen (Advil, Motrin) and naproxen (Aleve) will help with pain and swelling. However, these drugs have side effects, such as an increased risk of bleeding and ulcers. They should be used only occasionally unless your health care provider says otherwise and should be taken with food. Check with your doctor before taking these if you have any allergies, medical problems or take any other medication. Use a heel lift. Your health care provider may recommend that you wear an insert in your shoe while you recover. It will help protect your Achilles tendon from further stretching. Practice stretching and strengthening exercises as recommended by your health care provider. Usually, these techniques will do the trick. But in severe cases of Achilles tendon injury, you may need a cast for six to 10 weeks or even surgery to repair the tendon or remove excess tissue.
Surgical Treatment
There are a variety of ways to repair an Achilles tendon rupture. The most common method is an open repair. This starts with an incision made on the back of the lower leg starting just above the heel bone. After the surgeon finds the two ends of the ruptured tendon, these ends are sewn together with sutures. The incision is then closed. Another repair method makes a small incision on the back of the lower leg at the site of the rupture. A series of needles with sutures attached is passed through the skin and Achilles tendon and then brought out through the small incision. The sutures are then tied together. The best surgical technique for your Achilles rupture will be determined by your orthopaedic foot and ankle surgeon.
Prevention
To prevent Achilles tendonitis or rupture, the following tips are recommended. Avoid activities that place an enormous stress on the heel (for example, uphill running or excessive jumping). Stop all activity if there is pain at the back of the heel. If pain resumes with one particular exercise, another exercise should be selected. Wear proper shoes. Gradually strengthen calf muscles with sit-ups if prior episodes of Achilles tendonitis have occurred. Always warm up with stretching exercises before any activity. Avoid high-impact sports if prior episodes of Achilles tendon injury.